On Wednesday August 29th the Flemish newspaper De Morgen published a series of article around Willy Vandersteen who had died the day before. On page 5 of the Focus extra they also published an article about Bob De Moor's friendship with Willy Vandersteen plus a cartoon Bob De Moor had made the day before for the occasion.
Willy Vandersteen (15 February 1913 – 28 August 1990) was a Belgian creator of comic books and is best known for Suske en Wiske (published in English as Spike and Suzy). His career spanned 50 years during which he created a large studio and published more than 1,000 comic albums in over 25 series, selling more than 200 million copies worldwide. Hergé even called him "The Brueghel of the comic strip".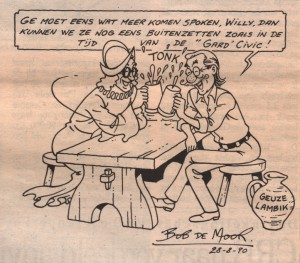 In the article itself Bob De Moor says that Vandersteen has been a big influence for him when he started out as a comic artist. The article also relates how De Moor was asked to join the Vandersteen Studio, which he declined as he wanted to work for the Hergé Studios. It's no surprise that the article also includes some lines on how Hergé has had a big influence on the work of Willy Vandersteen. It resulted in what would be Vandersteen's best albums, also known as the blue series with such albums as "Het Spaanse Spook", "Het Geheim van de Gladiatoren", "Het Gouden Paard" and so on. Bob De Moor also says that with the death of Willy Vandersteen he has lost a very good friend with whom he usually went out drinking until very early in the morning.
That latter detail from their friendship is also shown in the cartoon Bob De Moor made, and which we show you today. The drawing shows De Moor and Willy Vandersteen (disguised as the Spanish Ghost) having a drink. Bob De Moor says: "You need to come and haunt us a bit more often Willy, then we can have a drink like in the good old times of the Gard Civic!" The Gard Civic was the jazzclub-to-be in Antwerp situated at the Stadswaag, but it no longer exists. However, it's clear that both men were regulars at the establishment.
The name of the pub referred to Garde Civique or Burgerwacht which was a Belgian militia created in October 1830 shortly after the Belgian Revolution. As a formation, it acted as a quasi-military "gendarmarie", with the primary role of maintaining social order within Belgium until its disestablishment in 1920.
But let's continue to check this cartoon. If you look well, you can also see a jug of beer called "Geuze Lambik" standing on the ground next to Bob De Moor. It's a wordplay referring to the Gueuze beer (or Geuze) which is a type of lambic, a Belgian beer (lambic being replaced with Lambik, the Flemish name of a character in the Spike and Suzy stories). Good to know, Vandersteen based the name on… Gueuze Lambic, the beer he loved so much. And the circle is round.