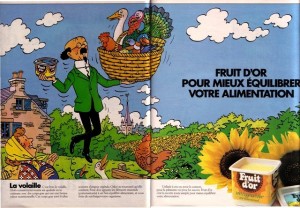 In the series of Fruit d'Or adverts which Bob De Moor completed for Publiart/Studios Hergé, today let's check out one particular advert featuring Professor Calculus hovering in the air with a hamper of poultry in his left hand and a Fruit d'Or margarine/a cooking butter boat in his right hand (from the perspective of the professor, that is).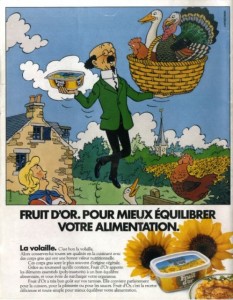 The second advert can be seen here on the left. You notice a lot of differences between the two drawings, although on the first sight they seem very similar.
We unfortunately have no exact date as when or in which magazine these ads were found. In case you have these adverts on print, please contact us.
To give you a first clue, check these 2 videos and pay attention to the woman…

Fruit d'Or Huile de Tournesol Le jogging by jrmdlvx

Fruit d'Or Huile de tournesol by jrmdlvx
So, let's dig a bit deeper into the differences of the drawings. We'll take the margarine version as a starting point and list all the differences:
the basket with poultry that Professor Calculus is holding in this version has 2 extra animals: a pigeon and a duck,
the margarine boat is drawn in this version,
there are extra movement lines under the head of Professor Calculus, under his elbow and under both his feet,
you also see the extra movement lines around the poultry and the basket itself,
an extra duck is added on the left of the already present goose,
the bushes on the left of the professor are bigger,
the colds are more evenly spread removing the bigger cloud behind the the professor and adding a few smaller ones,
if you look at the house you'll see and extra shutter on the ground floor window plus a few extra visible bricks in the wall,
the biggest change however is the housewife which in this version is a peasant wife with different clothing, different haircut and colour,
on the left of the peasant woman you see a prong stuck in a small dung hill,
overall there has been a different colouring done making this version more vivid. But better scans would help of course to see the complete difference.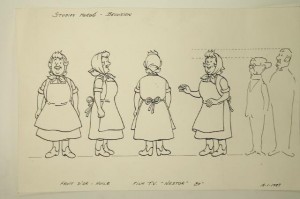 It's our guess, but we can be wrong, that the margarine version was the final version due to its more elaborated decors and drawings. However, it could also have been directed at different audiences. If we could nail a date on the TV spots we'd have a better idea. Sure thing is that the peasant woman was drawn for instance in 1983 (see the date on the drawing) by Bob De Moor for a character study by the Belvision team as you can see on the left.
More info later on…