Today we present you a detail which will very well explain how Bob De Moor and Geert De Sutter worked for creating the album "Barelli in bruisend Brussel" album. The detail was sent to us by Geert De Sutter a few weeks ago. The album itself originally was published in 1988 and reissued in 1989 and 1994.

Originally commissioned by Hugo Weckx, the Community Secretary of Education / Public Health and Brussels Affairs, it was released in various languages. The detail we show you today has never been published before. The strip was sketched out by Bob De Moor, after that Geert De Sutter worked on the decors while Bob De Moor drew the characters and also inked them. Afterwards Geert De Sutter inked the decors. The strip here shows the inked characters and the decors still penciled.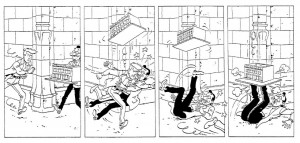 The final inked strip in black and white can be seen on the left. You'll probably will have noticed that it shows the infamous moment when Bob De Moor is being ran over by Barelli in a typical corner accident which De Moor so often used, see for instance also this Blake and Mortimer frame which was published in the first and second edition of the Blake and Mortimer album "Professor Sató's Three Formulae, Volume 2: Mortimer vs. Mortimer".