To celebrate the 35 years of the Tintin Journal in 1981, the younger generation of Tintin comic artists was asked to create their version of the older generation's work. The results were published under "Brouiller les cartes" in a special of Tintin Journal, issue 39 of 1981. One of the 3 pages based on Bob De Moor's work was created by Michel Weyland (best known for his Aria series), and holds his interpretation of a Monsieur Tric gag as created for issue 17 of the Tintin Journal of 1950, namely "Jardinage".
The build-up, text and content of both versions differ quite a bit. Let's have a closer look.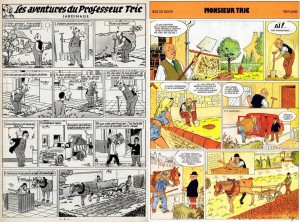 First of all you'll notice that the Weyland version is in colour, while the original is in black and white (with some grey tones). Next you'll see that Bob De Moor cut the scene up into 11 frames while Weyland reduced it to just 8 (7 even you don't count the detail at the end).
You'll notice that the first frame has an inverse perspective compared to the original drawing. It actually makes sense, because the flow in Weyland's version is now kept inside the page. This was actually a compositional error by Bob De Moor (as he would recall in later interviews).
Textually, Weyland compresses the first two text balloons in just one and he already puts the spade in Tric's hands. He also deletes the frames 2 and 3. For frame 4 he decided to let Tric immediately complain about his rheumatism, something which is not the case in De Moor's version. Frame 5 in De Moor's version has a neighbour having a chat (laugh?) with Tric. It's a man. Weyland decides to add a sexy touch to his version and goes for a cute blonde girl. Frame 6 in Weyland's and De Moor's version are more or less the same, except that Weyland let's Tric move to the right, continuing the flow of the action in the page. Frame 7 is not 'translated' in Weyland's version. Frame 8 is more or less the same in both versions, except for the way the van is placed, however the flow of the action is turned similar as Weyland has Tric pointing to the right. Frame 9 and 10 of De Moor's version are textually melted together in Weyland's frame number 6. However, visually, frame 10 of De Moor's version is continued in Weyland's frame number 7 (embedded in frame 8 and without the text which he moved to frame 6). In the final frame of De Moor's version we see the astonished neighbour looking at Tric and his horse, but there is sadly enough no cute blonde to be seen in Weyland's version.
We'll be commenting the other 2 adaptations (Barelli and Cori) in the next days!