In 1987 and 1988 the Belgian publisher Brain Factory International released a 4 volume counting book series holding interpretations of Jacques Brel songs by comic authors. The 297 x 215 x 50 mm big books counted over 85 pages each and came as very well layouted deluxe editions and as a normal edition. We'll talk about the deluxe edition which we have in our collection here.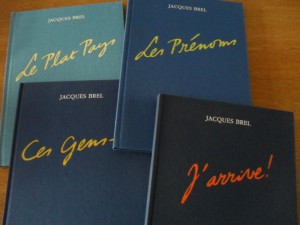 For the 2nd volume "Les Prénoms"(1987) Bob De Moor, just like many other comic authors, delivered a 4-page story for this series which must belong among his darkest work ever.
The 4 volumes handled different topics as you can see below:
Volume 1: Le Plat Pays (1987) with contributions by Tibet, Jean-Louis Lejeune, Frank-Ivo Van Damme, Alec Severin, Jean-Claude Salemi, Eddy Ryssack, Jarry, Jean-Claude Servais, Carine De Brabanter, Frédéric Jannin.
Volume 2: Les Prénoms (1987) with contributions by Isabelle Busschaert, Didier Conrad, André Geerts, Mitacq, Will, Peyo, Laudec, Bob De Moor, Marc Hernu, Bédu.
Volume 3: Ces Gens-là (1988) with contributions by Dany, Rossi, Peter Van Straaten, Henri Kichka, Fred, Jean Solé, Magda, Liliane & Fred Funcken, Derib, Edouard Aidans.
Volume 4: J'Arrive (1988 ) with contributions by Tadeusz Baranowski, Ab'Aigre, Péji, Christian Lamquet, Gilles-Marie Baur, René Botti, Michel Kichka, Fabrizio Borrini, Jean-Claire Lacroix, Françoise Amadieu.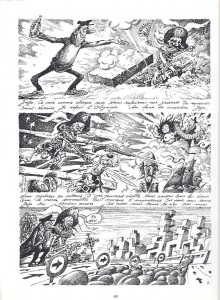 The page we present you here is the 2nd page of the 4-page story which is based on the Jacques Brel song "Jojo" taken from "Les Marquises", Brel's 13th and final album released in 1977. Brel would die a year later. It was also the singer's first album of new songs in ten years.
The song handles the death of a dear friend with whom the leading character has shared everything. The sketchy penned artwork style as chosen by Bob De Moor – just black and white and no colors – belongs among the darkest he ever created and reminds us a bit of André Franquin's "Idées noires". It shows again that he was able handling quite a few different styles and delivering the unexpected.
The 4 volumes can still be bought in one go (check here) or you can order the "Les Prénoms" volume as standalone (check here).
Below you can listen to the lovely Jacques Brel song "Jojo" which was the inspiration for this Bob De Moor story.