On February 14th 1951 the Tintin Journal had a frontcover created by Bob De Moor which acted as an invitation for an afternoon organized at the Royal Circus on Thursday February 22nd 1951. You will recognize the same drawing style Bob De Moor would use in Barelli's first adventure (which had debuted a few weeks earlier in the Tintin Journal). Whilst cruising through the De Moor archives we stumbled on a black and white version of this cover, a copy of the original drawing that is.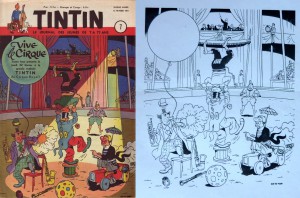 If you look closely you'll notice that the original was slightly bigger than what got printed in the Tintin Journal. Both the left, right, upper and bottom borders of the original drawing got trimmed for the final result. In the bottom border this caused that the shadow of the ball is not visible and the harmonica and klarinet have been partially cut off. On the right you'll notice that the number plate is not complete in the final version.
The colors used for the print version added quite some depth to the drawing, the light beam being the most prominent extra which the black and white version does not represent. Speaking of that light, Bob De Moor might not have counted on that light when he finished his black and white version. None of the front characters or items show a long casted shadow, which you'd expect, instead he probably counted on a light beam that came from above too which would result in the shadows you see with the ball and under the car.
The issue we handle here included 2 more Bob De Moor series: Conrad Le Hardi and Barelli. In other words: busy times for Bob De Moor who was also working on Tintin's "Destination Moon" album version by then (the story had already been presented in Tintin Journal).