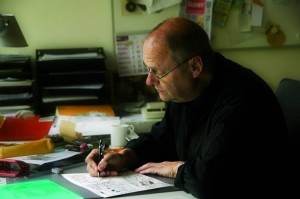 We did a Bob de Moor related interview with Merho, the best selling comic artist in Belgium.
Merho (born in Antwerp, Belgium 24 October 1948) is the pseudonym of Robert Merhottein. He is a Belgian comic-book writer and artist, best known for creating the comic strip Kiekeboe (now named De Kiekeboes). He worked for five years as an assistant on Jerom and Pats with Studio Vandersteen before starting his own series, Kiekeboe – officiële fanpagina for the newspaper Het Laatste Nieuws. That newspaper had until then no local, Flemish comic strip contrary to De Standaard/Het Nieuwsblad (with Spike and Suzy) and Het Volk (with Nero). Instead they published Dutch comics by Marten Toonder or Hans G. Kresse, so that left an opportunity for Merho to enter the daily comic market.
The first story was serialized in the newspaper starting on 15 February 1977 and has since then continued almost uninterrupted. With more than 100 albums, the Kiekeboe series is one of the 3 most successful Flemish comics (next to Jommeke & Spike and Suzy) and sells over 100,000 copies with each new album, 1 million albums per year in total. The series only had a short-lived French, German and English translation, and a rebranding for the Dutch market, including renaming the series to De Kiekeboes.
But Flemish readers will know Merho for sure! And he has a very straightforward view on Bob de Moor and his career as you can read.

BDM: That you respect Hergé as an artist was already visible in the funeral of Kiekeboe were amongst other comic heroes we also find a sobbing Tintin and Captain Haddock. But what is your stance towards the work of Bob de Moor, who also created quite a number of series besides his work for Hergé?
M: As a comic reader I knew Bob de Moor's work from my youth. But I never had the same affinity with it as I had with the work of Hergé, Vandersteen or Sleen. I got to know Bob in the eighties via the Stripgilde. Later I also met him often during meetings at the Belgian Centre of Comics. It was one of the most adorable people from the 'métier'. Nothing cocky, very open and very jovial when meeting younger colleagues. The last time I saw him was at the funeral of Willy Vandersteen in 1990. Afterwards he and his wife were facing us at the coffee table. Of course we reminisced to our good friend Willy. Two years later he would die himself.
BDM: In contradiction to Bob vs Hergé, you never stayed a 'servant' when it came to working with Vandersteen and you lanced yourself and your own series. Did Bob have it to free himself from his relation with Hergé?
M: Bob already had lived a whole career when he started working for Hergé. And from his biography I learned that that career move was quite a relief to him. Bob wanted certainty and didn't have the mentality of an entrepreneur (Editor's note: the recent biography describes in full detail how Bob didn't like the paperwork of being self-employed). I think he really felt relieved when he could work at his own pace on Tintin without having the worries of an independent. For an employer a person like Bob de Moor is godsend. A man with a whole lot more métier, who never had the need to break out. The most ideal collaborator a comic maker can dream of. Most collaborators in the end want to create something for themselves. Which I can perfectly understand. I had that same urge and therefor also left the Vandersteen Studios. Bob already had lived that adventure and could on top work on his own series within the Studios Hergé construction. For both gentlemen this was a win-win situation. And deep inside he also knew that, despite his virtuosity as a comic artists, he wasn't the master storyteller like Vandersteen and Hergé were.
BDM: As a result of staying in the shadow the younger generation (younger than 40) hardly knows Bob de Moor and his work. Is this what pushes you? Not being forgotten or don't you ever think of that?
M: Of course I'd love to be read after I'm gone. It is somewhat life after death. That's why I don't object to see the De Kiekeboes series continued after I'm gone. On top, my heirs can then take some profit from it. Something that stops soon disappears these days. Tintin is the exception to the rule. But from the younger generation, who still knows Nero? Who is still reading Ernest Claes? I think that the work of Bob de Moor will end the same way on the long run. Eternal glory is only reserved for the greats. For clarity, I certainly do not count myself amongst those greats.