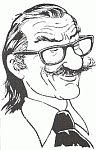 When I was 15 years old, in 1989 that was, my mother gave me the book Bob de Moor. 40 ans de bandes dessinées, 35 ans aux côtés d'Hergé
 as a present when we visited the CBBD in Brussels. I had at that age not really seen nor read the stories from Bob de Moor. But, I did instantly like the artist with that smiling moustache on the cover of the book (don't ask me why, the moustache and smile  just caught my attention). At that time I knew sufficiently French and didn't have to count on the images only in the book to understand everything :).
By then already most of de Moor's work was close to impossible to find in regular comic stores, so when I got older, around 16, I started to reconstruct his entire back catalogue bit by bit by visiting specialized stores (Mecanic and Beo in Antwerp being very good resources) and going to comic fairs. Bit by bit I succeeded in collecting his oeuvre. Good to know, internet didn't exist back then so all the info I got was via books in the library so I could construct his bibliography and know what to look for.
24 years later, just a few weeks ago in fact, I thought it was high time to launch a Facebook page on Bob de Moor since there was simply none available and the info on his work was so dispersed online that it only made sense to start and try something myself (thanks Luc for the final push, although you didn't realize back then). The page followed, people flocked to it and now 3 weeks later, there is also a site dedicated to Bob de Moor – in English – to gather as much info on this great flemish artist. It all took place in a very short timeframe, but so far the reward has been huge including contacts and insights.
Thanks to everyone who has been so helpful, especially the contributors to the page including the comic artists who have been hugely important to show it's indeed possible to have a continuous conversation on de Moor's work. 
I hope this is only the first step in many to follow! Let's steam forward, you may expect a lot of news updates in the next days including one that many have not yet heard from…
Bernard Van Isacker, Ieper (BE)