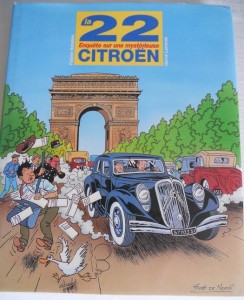 Update: Part 2 of this story can be read right here.
In 1994 the French publisher Rétroviseur published the book "La 22, Enquête sur une mystérieuse Citroën" by Hervé Laronde and Fabien Sabatès. The 179 page book was about the legendary 'Citroen traction avant 22' and had a cover created by Bob De Moor.
Very special about this drawing is that it would also be the final, very last, drawing which Bob De Moor would make before succumbing to lung cancer on August 26 1992. Behind the wheel we see Barelli and next to him his good friend Inspector Moreau. The setting of the image is Paris in the 1930s, you can see the Arc de Triomphe in the background and a French Policeman.
As you all know probably Bob De Moor has created quite a lot of artwork for Citroen over the years, we all know the 4 part Citroën adventures which Bob De Moor drew whilst working for the Studio Hergé (and if not, don't worry, we'll be picking this up in the near future), and he also did illustrations for various Citroën calendars. It must have been a real honour for De Moor to be able to deliver the cover for this book, which seems to have been in production for quite some years (since it was only released in 1994 and Bob De Moor died in 1992), as it talks about the cult Citroën car which never left production and of which only 22 prototypes were produced.
The book itself offers numerous illustrations in color and black & white on this cult car. The history in short goes something like this. The Citroën Traction Avant itself was an automobile which was produced by the French manufacturer Citroën from 1934 to 1957 but the 22 one was another story. Back in the early 1930s Citroën planned two variants that never entered production, since there was not enough funding available to develop them, except as running prototype vehicles. One was an automatic transmission-equipped model, based on the Sensaud de Lavaud automatic transmission, the other a 22 CV model with a 3.8 liter V8. The transmission was a "gearless" automatic, using the torque-converter alone to match engine revolutions to the drivetrain revolutions, much like the Dynaflow Transmission introduced later in the USA. The car was supposed to have a less spartan interior than the other Traction Avants and it was to feature Citroën's own new V8 engine. About twenty prototypes were made, but the project was canceled at the start of 1935 after the company's bankruptcy. The resulting Michelin takeover led to a level of financial discipline. The prototype 22CVs were probably all destroyed.