When 'Tintin and the Picaros' was pre-published in Journal Tintin in 1975, the 2 pages before the actual first pages of the pre-publication included a typical Tintinesque 'dance' (in Flanders we would call that a type of 'Polonaise') featuring kids running in a '3' shape way from the extreme left to the extreme right hopping over and through the letters "Tintin et les Picadors". The double page was drawn by Bob De Moor and started with a small quiz on Tintin. Today we present you this page which many have forgotten.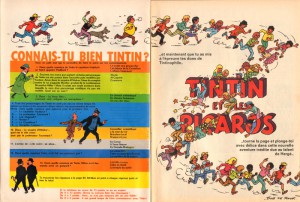 "Tintin and the Picaros", the twenty-third volume of The Adventures of Tintin, saw a pre-publication in the Journal Tintin which began in 1975 and ended in 1976, the same year the first edition of the album was released via Casterman.
The double page we present you here showcases perfectly the then popular dressing code for kids including the now almost totally extinct dungaree. You'll also notice a twin, which is not a reference to the twin brothers Igor and Grichka Bogdanov, they would only gain notoriety with their 1976 book "Clefs pour la science-fiction". If anyone remembers what those twins could have stood for, let us know!