On June 24th 1989 Chris De Moor, oldest son of Bob De Moor, celebrated his 40th birthday at the Salle St Pie X in Forest, Brussels (BE). The invitation for that birthday party was created by Bob De Moor (thanks to Alain Demaret for the tip and scan). As usual it also holds references to his son's real life. We asked Chris De Moor for some input.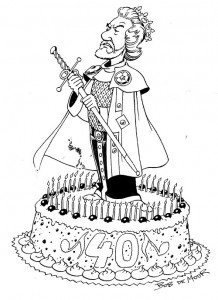 Chris: "My father got the inspiration for this drawing from a (now lost) 1981 picture from the opera in Ghent 1981 where I pose in the costume of the medieval king Heinrich der Vogler (English: Henry the Fowler) from Wagner's opera "Lohengrin" which plays on the banks of the the Scheldt (Dutch: Schelde / French: Escaut). Hence also the crown and the sword. The candle setting fire to the cap is a typical Bob-joke." Originally Chris also wanted to become a graphical artist like his father. He has had a training at the academie of Uccle (1961-67) and at Sint-Lukas in Brussels (1969-72). But says Chris: "I haven't been drawing for more than 40 years now and haven't kept anything worth showing."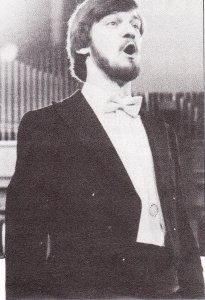 Instead of drawing, he built himself an international career as a bass singer. From 1973 until 1982 he was a member of the De Koninklijke Muntschouwburg (French: Théâtre Royal de la Monnaie) aka De Munt where he was able to show his love for opera. At the same time he studied at the conservatory in Brussels (song, opera and concert singing) and won prices at song contests in Antwerp (BE), Paris (F), Barcelona (SP) and Vercelli (IT).
He is a regular guest at the Vlaamse Opera (Flemish Opera) where he played the role of Commendatore ("Don Giovanni"), Prince Gremin ("Jevgenij Onegin"), Gualtiero ("Edgar"), Horn ("Un Ballo in Maschera"), Mr. Flint ("Billy Budd"), Nachtwächter ("Die Meistersinger von Nürnberg"), Tchélio ("L'Amour des trois Oranges") and so on.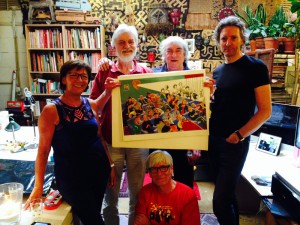 He was also a guest singer at the Opéra Royal de Wallonie ("Nabucco", "La Damnation de Faust") and various festivals. Next to this he performed in The Netherlands, Greece, Germany, Spain, Italy, Switzerland, but mostly in France in the opera houses of Toulouse, Strassbourg, Tourcoing, Montpellier, Marseille, Nantes, Avignon with 'La Grande Ecurie et La Chambre du Roy' directed by Jean-Claude Malgoire.
The opera repertoire of Chris De Moor is quite elaborated. He has sung in "Zaide", "Le Nozze di Figaro", "Don Giovanni", "Die Zauberflöte", "Il Barbiere di Siviglia", "La Bohème", "Turandot", "Nabucco", "Otello", "Rigoletto", "Un Ballo in Maschera", … Chris' vocal performances can also be found on several CDs/LPs including Rameau's "Platée" and Händel's "Messiah" again directed by Jean-Claude Malgoire, both available on Amazon France
.
As we told you already, the De Moor family has more than just something with music. More on this in the future.