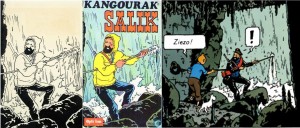 In late 1979 the Studio Hergé (or better, Publiart) accepted an advert proposal from the dutch raincoat maker AGU. Under the Kangourak Salik brand several of the characters from the Tintin comic books were adapted for use in publicity items released in 1980 such as stickers, posters etc.. 7 8 stickers were produced (you can see them below). The drawings were first test drawn by collaborators from the studio, and after approval by Hergé, a final drawing of each creation was made by Bob De Moor, by then artistic director for the studio.
Whereas there are test drawings that exist which show Tintin out of his normal habitat, in the end the studio opted for choosing drawings from albums which were then reinterpreted. In the example here we see Captain Haddock in an adapted scene from page 43 (case 9) from the 1949 Tintin album "Prisoners of the Sun". As you can see, De Moor completely redrew the case and put Haddock in a Kangourak Salik raincoat (notice the S on the zipper). The design here has often been exchanged online as being from Hergé, whereas it was a Bob De Moor drawing for sure.
On the left you can see an advert for the Kangourak Salik raincoat. We had one and it's almost sure that if you are from Belgium or Holland that you also had one when being young, especially in the early '80s.
It's our guess that the two sons Peter en Jaap jr. Van den Kommer from AGU were behind this idea. In 1976 they succeeded Van den Kommer sr. and the same year they were awarded a price for the best rainsuit. Even the Royal family started wearing AGU. In 1980 AGU introduced the raincoat for cycling which became a big succes. Ever since the brand has been quite active in sport sponsoring.
On a side note, these commercial sidesteps by the Studio Hergé were often quite elaborated and involved quite some work for Bob De Moor as will be shown in later posts.