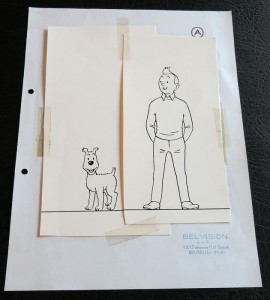 This Tintin & Snowy drawing was completed by Bob de Moor in 1972 for the Studios Hergé. Of course it was made for the "Kuifje en het Haaienmeer" (that's the dutch title – so you also get to learn Bob's language bit by bit ) as produced by the Belvision studios. Note again that the different drawing is due to the purpose of the drawing: to serve as a guideline for the animators at the Belvision studios. Another test drawing for a dog can be seen here. That's also why Snowy has a more human mouth for instance (which you also saw in the very early Belvision animated series of Tintin).
For those interested to know how Bob de Moor worked on this and other Tintin animated films, make sure to read Monographie BELVISION – tome 0 – Monographie Belvision – "Le Hollywood européen du dessin animé"
, it holds a lot of extra artwork and information.
"Tintin and the Lake of Sharks" (French: "Tintin et le lac aux requins") was directed by Raymond Leblanc and written by the Belgian comics creator Greg (Michel Regnier). Bob de Moor supervised the film for the Studios Hergé. Note that this isn't the first time that Greg wrote a scenario for Hergé. Earlier on he had written the scenario for the abandoned Tintin album "Thermozéro" which might now be released after all so it seems.