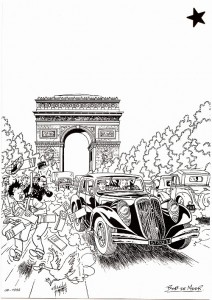 On June 14th we posted an article about the very last drawing Bob De Moor ever made. Some doubted this was the case and we received various emails asking if this was really the last drawing. It was, not only did confirm Johan De Moor this when meeting him on June 20th, also Bob De Moor's wife Jeanne De Belder confirmed this after De Moor died.
Petja van den Hurk sent us a scan of a Christmas card in black and white holding the drawing Bob De Moor had made for the 1994 book "La 22, Enquête sur une mystérieuse Citroën" by Hervé Laronde and Fabien Sabatès. The 179 page book was about the legendary 'Citroen traction avant 22' and had a cover created by Bob De Moor. The card is dated 08/1992 (left bottom corner) which means the drawing was finished by Bob De Moor the same month he died.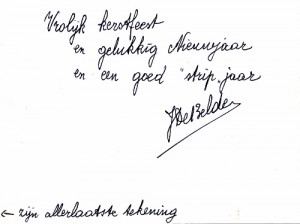 But to make it even clearer, on the back of the card you can read a text in dutch, which we translated: "Merry Christmas and a Happy New Year and a good comic year (signed) Jeanne De Belder". And in the left bottom corner she added an arrow pointing to the left (the cover of the card that is) with the text: "his last drawing".
So if there ever was a discussion possible, this drawing unravels the 'mystery' once and for all.