Last Friday 3 October we were at the reception for the 25th anniversary (and it's 30th if you count from the creation of the non-profit organization) of the Belgian Comic Strip Center at the Zandstraat 20 in Brussels. Present were hundreds of people who came to honor the center and its legacy. The combination of sparkling wine and all kinds of tapas made that the venue stayed very crowded until late that evening.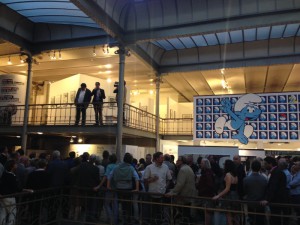 The celebration was also the occasion to officially open a brand new permanent exhibition dedicated to Peyo we all know from the Smurfs. 3D effects will help the visitors to discover the work of Peyo from a different angle. The CBBD also presented the first results of Google View which visited the building. In the near future you'll be able to cruise through the building, something which will be of interest to all those living outside Europe. Each year over 200.000 people visit the center but with this new extra many more will be able to see what is displayed.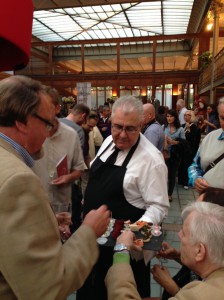 Present were a lot of comic authors and scenario writers including but not limited to Merho (Kiekeboe), Hec leemans (Bakelandt, Nino, Kowalsky, FC De Kampioenen, …), Judith Vanistendael ("De maagd en de neger", "Toen David zijn stem verloor", …), Jean-Pol (Kramikske, Sammy, Kabouter Plop, Samson en Gert, …), Yves Sente (Blake & Mortimer, Thorgal, XIII, …), but also people who have worked with the Tintin journal such as Guy Dessicy and his spouse, Bob De Moor biographer Ronald Grossey and so on. Furthermore there were people active in the promotion of comics such as the team behind the 'Stripfestival Knokke-Heist', distributors and comic store owners. All in all a who-is-who in the world of comics in Belgium and too many names to post here.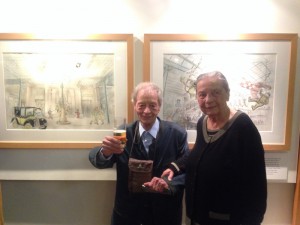 We had the chance to talk with Guy Dessicy and are planning an extensive interview with him on Bob De Moor and his work for Publiart. More on that later on (thanks to Hec Leemans for the introduction). But he already posed together with his wife in front of the two drawing which Bob De Moor made in 1985 for the comic center and gave to Guy Dessicy, who himself donated them to the comic center.
The non-profit organization "Belgian Comic Strip Center" was created in 1984. It is a private initiative, composed of French-speaking and Dutch-speaking members. The Belgian Comic Strip Center's presidents have been, in chronological order, Bob De Moor (1984-1992), Jean Van Hamme (1992-2000), Guy Dessicy (2000-2012), and then Ferry Van Vosselen. Jean-Pierre Vanden Branden is its vice-president. The Belgian Comic Strip Center's aims are twofold: to promote the comic strip as a valuable cultural medium and to maintain the architectural masterpiece which it is housed in.
For those coming to Brussels, there's a comic tour available on Google Maps, which you can see below.

Parcours BD de Bruxelles / Striparcours van Brussel/ Brussels Comic Strip trail weergeven op een grotere kaart