This weekend the Liège based auction house BD Enchères (aka Les Carmes Ltd.) auctioned 2 sketches by Bob De Moor (thank you to Fred from Centaur Club – Forum Blake & Mortimer for the hint). We have no idea yet what price the two items fetched but they were estimated to reach between 80 to 150 euro per piece. We have contacted the auction house for some good quality scans and will update this article with the new scans if we can get hold of them. So today we'll briefly discuss the first drawing, allotment 413.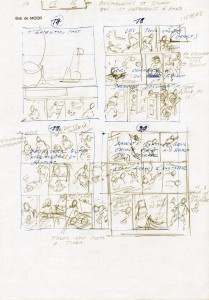 The page holds a sketch of the pages 17 to 20 of the 1987 Cori album "L'expédition maudite". You'll see that the drawings don't correspond with the actual pages in the album, indicating that Bob De Moor changed quite a lot afterwards. The sketch is in pencil with notes written in pen. Due to the not so clear scan in the catalogue it's not really clear what the notes are about but we could distinguish that the notes are written in French. Not that weird since Bob De Moor was mainly writing his material in French first by that time.
Note that it was with this album that Bob De Moor won the 'Angoulême International Comics Festival Prix Jeunesse 9–12 ans' aka the 'Alfred du meilleur album jeunesse' in 1988. Nowadays the price is called the 'Alph'art Jeunesse 9-12 ans'.
You can download the catalogue of the auction right here.