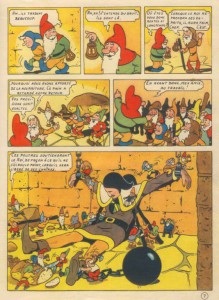 Coming up (the precise date is not yet known, but it should be in Fall of 2014) is a new edition of "Le mystère du vieux château" in French. As you already know from our previous post about "Le mystère du vieux château" there will also be an edition in Dutch, to be released by Brabant Strip on 1000 copies, called "Het Mysterie van de oude burcht". The edition in French will be released through La Crypte Tonique (which already released some really cool stuff from Paul Cuvelier for instance) and is planned to be released on 300 copies. Yup, 300, so you better make sure to lay your hands on at least one cope. Once we have ordering info, we'll let you know.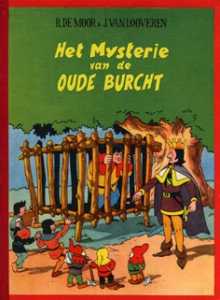 Both version will be released in their original version based on restored films. The french version will – as far as we understood – have the original lettering while the Dutch version will be the first ever in Dutch. So it will be interesting to see what lettering will be used and how the translation will turn out as this has been a problem with some of Bob De Moor's work. Barelli for instance has undergone some pretty bad translations back in time as it was originally written in French but pretty poorly translated in Dutch, and also the updated versions of Johan and Stéphan weren't really to be called excellent, on the contrary – 'watje' still hurts whenever you read it.
In the next days we'll talk some more on the topic of "Le mystère du vieux château" and especially about the original publisher Campéador. And as an extra you'll also get a glimpse of that lost album called "Prins Hara-Touri" which was supposed to be the next album the duo John Van Looveren and Bob De Moor had planned with Campéador.