In 1971 Bob De Moor was asked to create the cover artwork for a special issue of 'Les cahiers de la bande dessinée' on Hergé. He decided to give them a 'Tintin gone Hergé'. A shocking exercise that leaves Snowy shocked (to the point of loosing the bone he so much cherishes).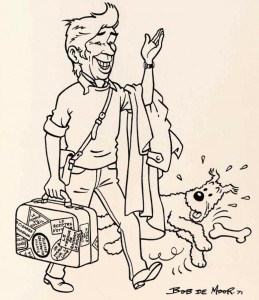 As you can see, Bob De Moor gave Tintin the head of Georges Rémi aka Hergé, including the typical Tintin haircut. On the suitcase several titles of Tintin albums were added: "Le temple du soleil", "Le Sceptre d'Ottokar", "Le Trésor de Rackham le Rouge", "Cokes en stock", "On a marché sur la Lune", "Tintin au pays des Soviets", "Les Cigares du pharaon", "L'Oreille cassée" and "Vol 714 (pour Sydney)".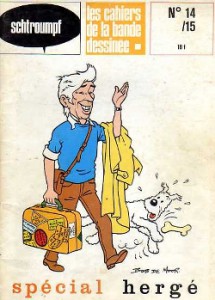 So why do we show you this drawing today? Well, the 21 x 27 cm big drawing is being put up for auction on March 7th in Paris, France by Sotheby's which expects it to reach between 1.800 and 2.500 Euros.
The 'Spécial Hergé' counted 81 pages and would be published in 1972 in between a Gotlib and a Roba special. The cover held a coloured version of the drawing stressing even more the resemblance with Tintin. You can see a scan on the left.
It would not be the last time that De Moor would put someone's head on a Tintin body…